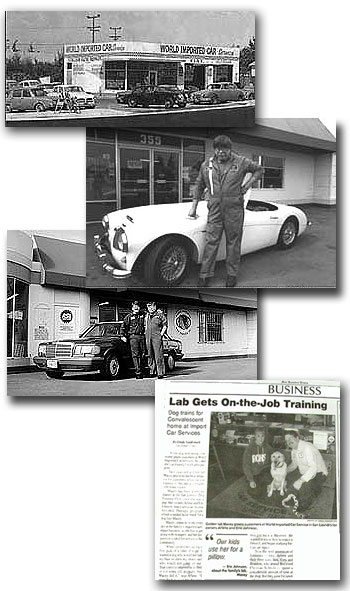 COMPANY HISTORY
In 1963 Hal Johnson was just finishing a tour of duty with the United States Army. He had been stationed in Italy. His wife had been able to live with him there and work in Verona. Marjorie had recently given birth to their first son, Eric. While shopping one evening they passed a nearby auto showroom and spotted a Maserati 3500GT for sale. It took all their savings, but they bought it.
A few months later when Hal left the military he was able to ship the car back to the U.S. Finding someone competent to service the Maserati in their hometown of Modesto, Ca. proved to be difficult. Hal found himself doing more and more of the maintenance and repairs on the car himself. For some of the more difficult operations Hal found himself using World Imported Car Service in San Leandro, Ca.
World, at that time was owned by an Italian man named Alberto Zufato. Hal and Alberto struck up a friendship and Hal found himself more and more often helping Alberto repair cars. Alberto taught Hal about Maserati's gave him a good traditional foundation for auto repair. Hal found he was very good as a mechanic and decided to try it professionally. Hal, Marjorie and their growing family moved to the San Francisco Bay area soon thereafter. Hal worked for Alberto for several years and eventually bought the business in 1968 when Alberto decided to move back to Italy.
World Imported, was at that time located at 15225 Hesperian Blvd. in San Leandro. Hal ran the business with Marjorie handling the book-keeping. The shop had an emphasis on European cars from the start with Italian, English, German and French cars all being serviced. In the late 60's the Japanese cars began to come into the mix as well.
In the late '70's Hal's oldest son Eric began to learn the trade and contribute significantly to repair and management operations. With steady growth, World Imported had begun to outgrow their location on Hesperian Blvd, and moved to their new larger location at 355 E. 14th street in 1987. By this time the shop emphasis was definitely German and Swedish cars as many of the Italian and English cars had ceased to be imported to the U.S.
World has continued in our tradition of hiring technicians with a passion for the European car experience and provides them with the latest training and diagnostic tools available. Although Hal and Marge retired several years ago, Eric and his Wife Arlene continue to run the shop with the traditional values and commitment to customer satisfaction that have allowed the business to thrive for over 40 years.